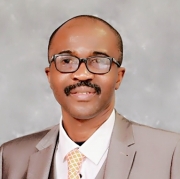 Kwabena is a Certified Competent Person with close to 20 years industry experience. Graduating from the University of Ghana in (1994 and 2001) with BSc Geology and MBA degrees, alongside a Postgraduate Diploma in Resource Estimation, Open Pit Mining and Quarrying from the Paris School of Mines (2010).

He is currently a Ph.D. Researcher in the field of Natural Resource Management at the Centre for Energy Petroleum Mining Law and Policy (CEPMLP) of the University of Dundee. His Expertise lies in Economic Geology and Resource Economics for both Mineral and Hydrocarbon Deposits. His current areas of expertise being Natural Resource Evaluation, Natural Resource Governance and Policy especially in the field of Licensing and Permitting Procedures and also Grassroots Exploration Surveys. His current research interests are in measuring wellbeing towards sustainability in mining towards long-term Sustainable Development for Resource Rich Economies.

Key projects Kwabena has been involved in include: Establishing a mineral inspection laboratory and providing other advisory service
s for a mineral inspection project to increase mineral revenue from raw materials for the Sierra Leonean Government in 2015.
Rationalizing and supervised the exploration team that successfully completed a pre-feasibility study of the Forecariah Iron Ore project in Guinea in 2011. The project is on hold pending a rise in iron ore prices. Technical Manager of the team of experts that acquired the permits and evaluated the Kibi and Nyinahin Bauxite deposits for VALCO on the Vale- Valco Integrated Aluminum Venture in 2008. The Integrated Aluminum Project is a key project of the new government in efforts to add value and increase revenue from Ghana's raw materials.

Acquiring, licensing and managing two active gold exploration and two granite quarry permits for KAM Associates Limited and Aurum Resources Limited in Ghana, (2008, 2016). Partnerships are being sought to continue exploration and production work on all four permits. Leading geological teams to provide various geotechnical services and Independent assessments of permits for both Major and Minor firms including Newmont, Goldfields, Anglo American, UTI in Kenya, and other African countries from 2008 till date.

Kwabena has recently been part of research experts on the Extractives Hub and Raw Talks project of the University of Dundee.
team»»